GOLD LABEL®™
For about 60 cultivars, mainly our PBR cultivars, we have a GOLD LABEL®™ available to obtain wholesale with the plants.



Clematis nursery J. van Zoest B.V. was present at the Trade Show Plantarium 2016 from 24 till 27 August. Click on the photo's for this years photo's.


Plantarium 2016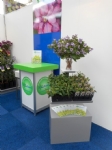 For more information about our 2016 introductions you can click at the link above.